Yeti: The Missus is a curious one.
Boo: In what way?
Yeti: Several. First of all, she has trouble walking on her hind legs, but refuses to go to all fours.
Boo: I think all those things she wears constrict her.
Yeti: That could be. Remember that time when she couldn't walk at all?
Boo: Yeah. I was getting worried about her.
Yeti: Why? Did you think she wouldn't walk ever again?
Boo: No, I was more worried about her when she was confined to bed and you started circling her like she was prey.
Yeti: [straightening] I'm quite sure I don't know what you're talking about.
Boo: You looked like you were going to eat her…or, at least, taste her.
Yeti: So did you; you circled just like me.
Boo: I was protecting her – watching you.
Yeti: Whatever. She was onto both of us. We're harmless. But I'm glad she got better. Now she feeds us and I'm just as happy with our food. She is tasty, though….[smacking]
Boo: [diverting] What else about her do you find curious?
Yeti: Well, that thing she does with wet colors on shapes. She makes all these big flat boxes of patterns and sings while she does it. The Mister doesn't do that.
Boo: He makes his on his "computer". They disappear in there, but at times he brings them back, like magic. Sometimes hers leave the house with her, and never come back.
Yeti: Her pictures are real; they can live other places, and they smell funny, but somehow they make me happy. I like to look at them. She likes me in the room with her when she makes them. I like to watch but sometimes I just nap. It's also fun to see if I can distract her from her work – sometimes that's a tough challenge in that odd room, even for me. But hey, you're not welcome in there – how come?
Boo: You know I eat everything. She panicked last time I got in there and she had a bunch of wet colors on the table and I jumped up. She yelled, grabbed me quick, whisked me out, and sat and held and looked at me and rocked me. I was both scared and comforted; she was trying to tell me something. I think those colors went bad.
Yeti: Yikes. But they look pretty dry, on those pretty flat boxy thingies.
Boo: I like those too. What else?
Yeti: What else what?
Boo: What else about her makes you curious?
Yeti: Well…. Everything, I guess. I am a cat.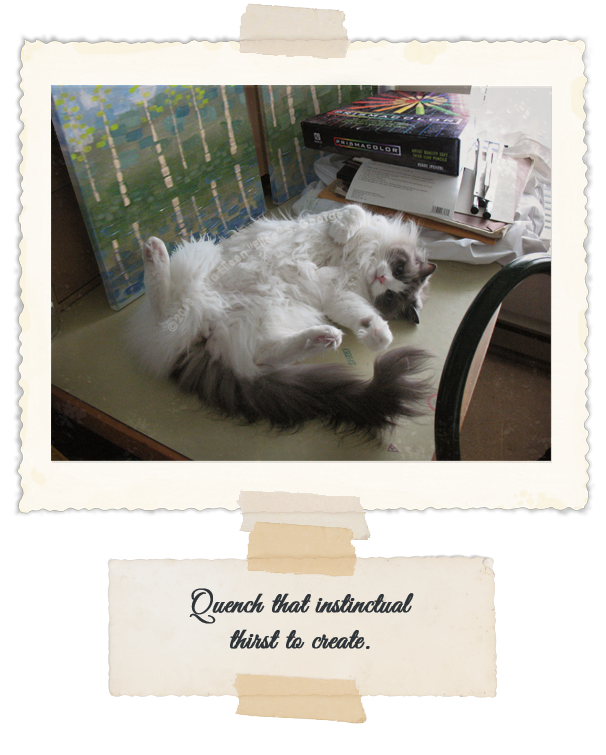 To see the "pretty flat boxy thingies with colors", go to: eileegeorge.com